TAPESTRY CROCHET AROUND THE WORLD
A type of tapestry crochet called Bundnerhakelei or Mosaikhakelei (Mosaic Crochet) has been done in Switzerland for several hundred years. The hook is inserted into the back loop of the stitch.
Tapestry crocheted yarmulke (also called kippas and skullcaps) are worn by Jewish men.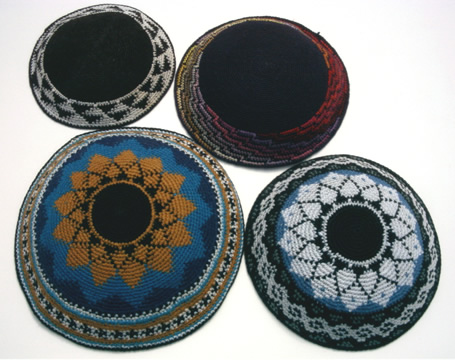 Tapestry crocheted hats are popular in West Cameroon, Africa.
Shoulder bags are crocheted by both men and women in Guatemala.
The photographs on this page are from More Tapestry Crochet, by Carol Ventura.

Link to Tapestry Crochet book
Link to Carol Ventura's Bead & Felted Tapestry Crochet book
Link to a free Tapestry Crochet Spiral Basket Project
Link to a free Tapestry Crochet Necklace Pouch Project
Link to Tapestry Crochet page web page
Link to Backstrap Weaving

| | |
| --- | --- |
| | One of the best things about tapestry crochet is that you can do it anywhere because it does not require a specially equipped studio. It is relaxing and regenerative - in fact - it is a proven fact that endorphins are released during repetitive activities - and tapestry crochet qualifies! On the left I am tapestry crocheting in a gondola on the way up to the Great Wall of China! Please email me pictures that I can add to a "do it anywhere" web page of the places where you tapestry crochet. At home, on vacation, in a tree, underwater - wherever. |




Web page, photographs, and text by Carol Ventura. Please look at Carol's home page to see more about crafts around the world.