The Backstrap Weaving School at Santa Maria del Rio, San Luis Potosi, Mexico
| | |
| --- | --- |
| Santa Maria del Rio is famous for its backstrap woven shawls and inlaid wooden boxes. The warp on a backstrap loom is stretched between a support and the weaver's body. A variety of fibers are used, including silk, rayon, and cotton. Since 1951, a government - sponsored school in Santa Maria del Rio has been teaching the techniques of ikat dying, backstrap weaving, fringe knotting, and marquetry. Thanks to its efforts, these traditional arts have not been lost. | |
| | |
| --- | --- |
| Don Cecilio (seen winding bobbins) has been teaching at the school for over 30 years. | A student measures the warp for a shawl. |
| | |
Several techniques are used to color the warp before it is woven. For the ikat - dying technique, the warp must be stretched out on a frame.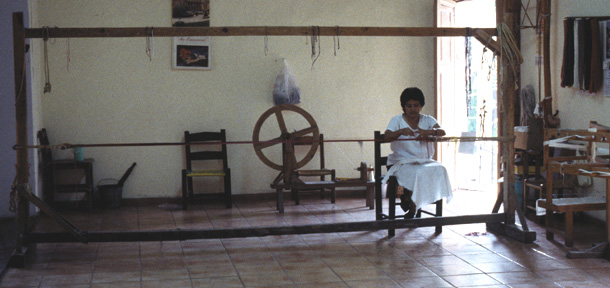 Groups of warp are tightly wrapped with thread so that the dye will not penetrate in those areas.

After the warp has been dyed, all of the knots are removed, then ikat - dyed black and red warp is alternated with red warp.
Knots at the top of the warp keep it from slipping out of place as it is woven.
Don Cecilio sets up a backstrap loom.

Don Cecilio and a student prepare the string heddles.
Weaving a shawl on the backstrap loom.
Knotting the fringe on a backstrap woven shawl.
For more information about the Escuela del Rebozo, see "The Ikat Rebozos (Shawls) of Central Mexico," in Shuttle, Spindle, and Dyepot, Fall 2002, 41-48, or to buy a shawl or an inlaid box, please write or call (in Spanish) info@elrebozo.gob.mx or

Jardín Colón #23
Centro Histórico
C.P. 78000
San Luis Potosí, S.L.P.
México
Telephone: 01(444) 814-8990, 814-6999 Y 812- 6816
LINKS:
Backstrap Woven Shawls of Esperanza Valencia Morra of Morelia
Foot-Loom Weaving in Central Mexico
Ikat Shawls of Uriangato and Moroleon, Mexico
Gobelin Tapestry Weaving in Dolores Hidalgo, Mexico
Toba Sashes of Argentina with Pickup Motif
Ikat of Bali, Indonesia
Songket Weaving in Bali, Indonesia
Tapestry Crochet
Cane baskets
Los Leñateros Papermaking, Printmaking, and Book Arts Studio
Shibori in Kyoto, Japan
Katazome (stencil dying) in Kyoto, Japan

Web page, photographs, and text by Carol Ventura in 2001. Please look at Carol's home page to see more about crafts around the world.