José Antonio Rodríguez Salazar
Santa Maria del Rio is famous for its backstrap woven shawls and marquetry boxes. The cedar-lined boxes were traditionally used to store silk shawls. José learned from his father how to make marquetry boxes from a variety of local woods. The geometric borders are made by cutting and gluing together woods of contrasting colors. The wood is then cut off in slices and glued to the surface with white glue.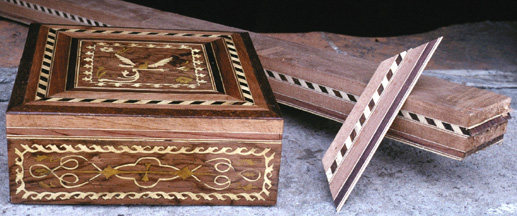 To create more complex motifs, a paper pattern and several layers of wood of contrasting colors are glued together (with animal-skin glue). The piece is loosely clamped into a vise (to allow for turning), then a fine saw is used to cut out the pieces. The cut-out pieces are then dipped in hot water to loosen the glue so that the layers can be separated. The various pieces are then assembled and glued to the surface of the box with white glue. After all of the marquetry has been glued in place, the box is sanded, lacquered, and then sanded again.
For more information about José or his boxes, please write to him (in Spanish) at:

José Antonio Rodríguez Salazar
Alvaro Obregón #20
Santa María del RíoSan Luis Potosí
México C.P. 79560
Web page, photographs, and text by Carol Ventura in 2001. Please look at Carol's home page to see more about crafts around the world.