Gladys Vandal (Jiixa), Haida Weaver and Teacher
Gladys, a member of the Eagle Clan, was born and raised in Skidegate, Haida Gwaii, an island in western British Columbia, Canada. Her parents were Kathleen (Young) Hans and Isaac Hans. Her grandparents were Henry and Fanny Young. Fanny made beautiful baskets from spruce roots and cedar bark.
Cedar bark weaving is a traditional Haida art. Gladys began weaving cedar bark in 1994, under the guidance of Delores Churchill, and later under her daughters, April and Holly, who learned from their mother and grandmother, Selina (Adams) Peratrovich.
Cedar bark must be damp when it is worked, so on the right, Gladys wets a hat that she is about to twine.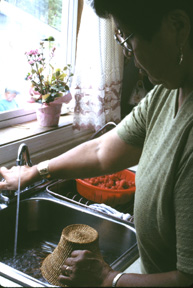 Gladys uses Haida weaving, plaiting and twining techniques to create traditional and modern pieces, including baskets, hats, flowers, doll clothes, rattles, earrings, and pendants. Besides exhibiting and selling her work, she also teaches traditional Haida weaving.
Here are some of Gladys' cedar bark hat-making techniques:
| | |
| --- | --- |
| Gladys harvests red and yellow cedar bark May through July. These trees were about to be felled. Bark can be harvested without damaging the trees if less is taken. The Creator should always be thanked before harvesting the bark. | Gladys uses rotating wooden molds of various shapes and sizes to help her create a variety of hats. Pictured below are a twined hat (left), a woven cedar hat (right) and two hat molds. Gladys also works with spruce roots, which she learned to harvest and weave from Virginia Hunter. |
| | |
| | | |
| --- | --- | --- |
| A circular lead weight keeps the top of the hat flat. Gladys finds twining to be healing and relaxing. | Notice how the warps increase as the hat diameter expands. Overlapping warps are separated and worked individually and when necessary, more warps are added. | Gladys separates overlapping warps to twine two stitches in the place of one. |
| | | |
A finished cedar hat by Gladys with an ermine addition.
| | |
| --- | --- |
| These Haida dancers wear cedar hats and head-bands decorated with cedar flowers. | Gladys is an award-winning quilter. Her block, which represents the Haida Nation, is part of an 80 by 20' collaborative quilt called Invitation, The Quilt of Belonging. |
| | |
Skidegate, Haida Gwaii, British Columbia, Canada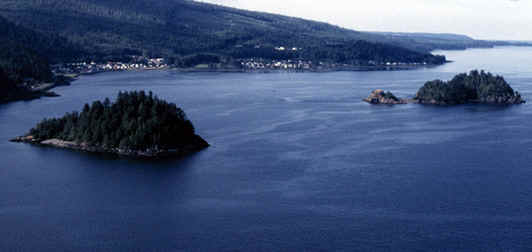 For more information, see "An Ongoing Tradition: Cedar Bark Hats," in Shuttle, Spindle, & Dyepot, Spring 2002, 40-45. You may contact Gladys at:

Box 1267
Skidegate, Haida Gwaii
British Columbia
Canada VOT 1S1
Telephone: (250) 559-4508
Links:
Haida wood carver, Reg Davidson
Haida argillite carver, Myles Edgars
Haida silversmith, Dave Hunter
Haida painter, James Sawyer
Mexican reed basketmakers
Mexican cane basketmakers
Los Leņateros Papermaking, Printmaking, and Book Arts Studio
Toba Sashes of Argentina with Pickup Motif
Adinkra in Ntonso, Ghana
Ashanti Kente Weaving in Bonwire, Ghana
Ashanti Kente Weaving in Adawomase, Ghana
Ewe Kente Cloth Weaving in Denu, Ghana
Painting and Baskets of Sirigu, Ghana
Tapestry Crochet
Shibori in Kyoto, Japan
Katazome (stencil dying) in Kyoto, Japan
Web page, photographs, and text by Carol Ventura in 2001. Please look at Carol's home page to see more about crafts around the world.