Glass Bead Making
in Odumase Krobo, Ghana
Locally-made beads are sold at the Odumase Krobo bead market on Saturday and Wednesday.
Cedi Beads Industry sell their beads both locally and internationally all week. For a tour, to buy beads, to arrange a class, or for more information, please contact Cedi at P. O. Box 102, Odumase-Krobo, Eastern Region, Ghana, West Africa, telephone +(233) 0244-817457, cedibeadsindustry@yahoo.com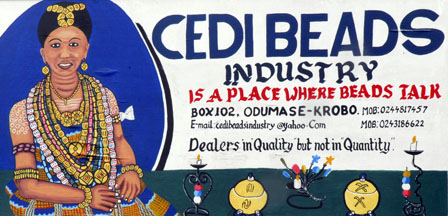 Nomoda (Cedi) Djaba and his family and employees enjoy demonstrating the bead making process to the many visitors who find their way there. They produce five types of glass beads: opaque and transparent beads from recycled powdered or chipped glass, painted beads, and they melt and reform antique chipped and broken beads.
Transparent and opaque beads are made from colorful recycled glass bottles.
Steel mortar and pestle used to crush glass into a fine powder.
Kudjo Owusu showed how earthenware clay was modeled into a cylinder, then cut with a machete and shaped by hand. He stamped the clay with a wooden tool to produce multiple depressions of the same size and shape. The mold will be fired to 1112oF / 800oC to 1832oF / 1000o C in the bead kiln before being used for bead making.
Nomoda Mark made this specially shaped reusable clay mold to produce the monkey bead shown.
Cedi demonstrated how the molds were filled with powdered glass that had been sieved. Ceramic mason stains were added to some of the powders make stronger colors.
The leaf stem of the cassava plant is used to form the hole in beads made from powdered glass. The powdered glass is added in colorful layers to produce patterned beads.
The wood-burning kiln was constructed from termite mound clay. The molds in the kiln are resting on automotive leaf springs that are supported by recycled car axles.
The filled molds are heated for 20 to 35 minutes at 1112o to 1472o F / 600o to 800o C until the glass powder melts, then they are removed from the kiln to cool for around an hour. The cassava stem keeps the glass at bay before charring, forming a perfect hole.
Some glass is broken instead of crushed. Window glass is wiped clean, then smashed with a rock. A wood frame on the stone mortar helps keep the chips together.
Molds are reused many times. Before filling them with glass, they are dipped in a mixture of kaolin and water to keep the molten glass from sticking.
Fingers are used to fill the molds with chipped glass that is then heated until molten.
Beads made from chipped glass are fired for 30 to 45 minutes at around 800o to 1000o C. The mold is removed when the glass is molten, then a pointed metal tool is used to make the hole in these beads.
After cooling in the mold for around an hour, the beads are removed, then washed together in water to clean the surfaces.
Owusu Geneth transforms them into necklaces and bracelets.
Web page, photographs, and text by Carol Ventura in 2008. Please look at Carol's home page to see more about crafts around the world.