Reed Basketmaking in Tequisquiapan,
Querétaro, Mexico
Weaving materials are soaked to make them pliable.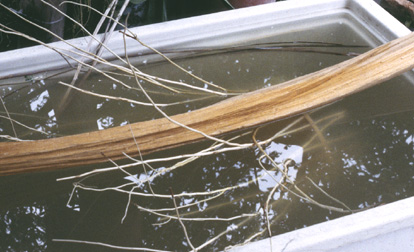 The reed is inserted into a wooden base, then the sides are woven.
Some baskets are woven over a wooden mold.
Salvador Mejía Peña makes furniture (notice the elephant table-base in back) and other sculptural pieces. He incorporates a metal frame into very large pieces, like this suspended chair.

For more information about Salvador or his work, you can contact him at:
Calle Zaragoza S/N/, Barrio La Magdalena, Tequisquiapan, Querétaro, México,
Telephone from the United States: 011-52-427-328-61
LINKS:
Cane baskets
Mexican Baskets
Basketmaking in Cameroon, Africa
Haida cedar bark hat maker, Gladys Vandal
Tapestry crochet basket pattern
Gobelin tapestry weaving in Dolores Hidalgo, Guanajuato
Ikat foot-loom woven shawls of Moroleon and Uriangato, Guanajuato
Papermaker, Margarita Orozco Ramirez, of San Miguel, Guanajuato
Los Leñateros Papermaking, Printmaking, and Book Arts Studio
Web page, photographs, and text by Carol Ventura in 2001. Please look at Carol's home page to see more about crafts around the world.